Trophy Pet Foods Wakefield
Hi! My name is Julie and I supply the Wakefield, Huddersfield and Barnsley areas with Trophy Pet Foods. Home delivery is safe, contactless and always FREE!
Our family business includes my amazing mum and dad, Garry and Barbara. They are busy keeping stock and computer wizardry. They also have their German short-haired pointer, Bruno, on hand to help!
I live in Shafton, Barnsley with my 3 teenagers, 2 springer spaniels, Maureen & Dexter and our cat Luigi. My pets had been on a trophy diet for some time before I took over this franchise, so I know the benefits the food has to offer, they all benefit a great deal from this wonderful food!
I also run a dog walking, pet sitting/boarding business. My life literally revolves around animals - AND I LOVE IT! Their welfare and happiness mean everything to me. My eldest daughter is at University studying Animal Management and Behaviour – another one of us following chasing her dream of caring for animals!
When I'm not working, taking care of animals or teenagers, you'll find me travelling, camping, at a music festival, at a rugby match or hiding in my caravan at the bottom of the garden drinking gin! Feel free to join me - bring the tonic!
Follow the Wakefield franchise on the socials, call me for a chat to discuss your pets' needs, receive nutritional advice, enquire about deliveries, free samples or anything else that I can help you with.
Hope to speak to you soon and meet your lovely pets.
---
Our services
Free visits and consultations
Covid-secure home delivery
Our promises
Qualified nutritional advice
Ethically recognised products
Personal contact from a local business
The best of British product
Stay up to date
Get the latest information on our new products
Or follow us on social media!
Want to know more?
We make a wide range of pet food including grain-free, lite diets, puppy, mature, adult and cereal-free options.
Introducing Trophy Pet Foods
Natural, ingredient-led, specially formulated with a wealth of key benefits.
Trophy Pet Foods is an established direct-to-your-door pet food delivery service. With an "Excellent" score on Trustpilot from over 250 reviews you can see why our customers choose Trophy Pet Foods. Everything we do is driven by passion for pets.
Each pet is unique and it is our mission to offer every Trophy dog or cat a free nutritional consultation via our trained and qualified Trophy Nutritional Advisers to ensure you know that they are on the right food for their life stage and are therefore healthy and thriving.
Like all good things in life, we offer a Satisfaction Guarantee, free home delivery and free samples to try before you buy. We make a wide range of pet foods including grain-free, light diets, puppy, mature and cereal-free options.
Ready to start?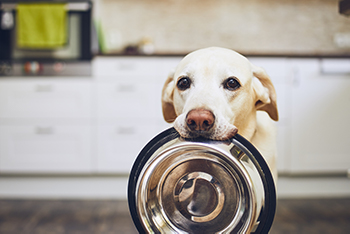 Online food finder tool
Each pet is truly unique. The food you choose plays a huge part in keeping your pet healthy and happy for life. Use our interactive food finder tool to tell us about your pet and to see some great feeding choices tailored for you by Trophy.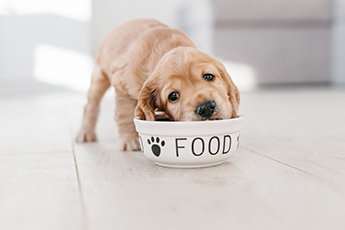 Order a free meal
Tell us a bit, or all, about your pets and I will choose the correct and most appropriate samples for you, and then deliver a free meal to you at your convenience. During busy periods, please allow up to 7 working days for me to make your delivery.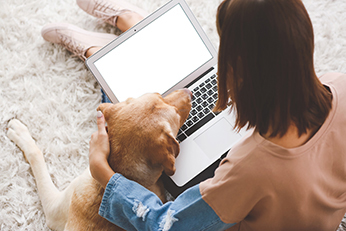 Book a consultation
Chat with me over the phone or via Zoom, I'm a qualified Trophy Nutritional Adviser. Then, if needed, arrange a safe face-to-face meeting with me to help you assess the suitability of our range for your pet. I have an excellent knowledge of small animal nutrition.
Exclusive welcome offer!
Buy a 3kg bag of dog food and we will give you one more for FREE!
Are you new around here? Want to discover what we have for your little friend?
Now is the time!
Pick one of our dog food options, order one 3kg bag, and we will offer you one more 3kg bag for FREE. All you have to do is use the coupon NEW2021 at the checkout, and two dog food bags will be delivered to your door!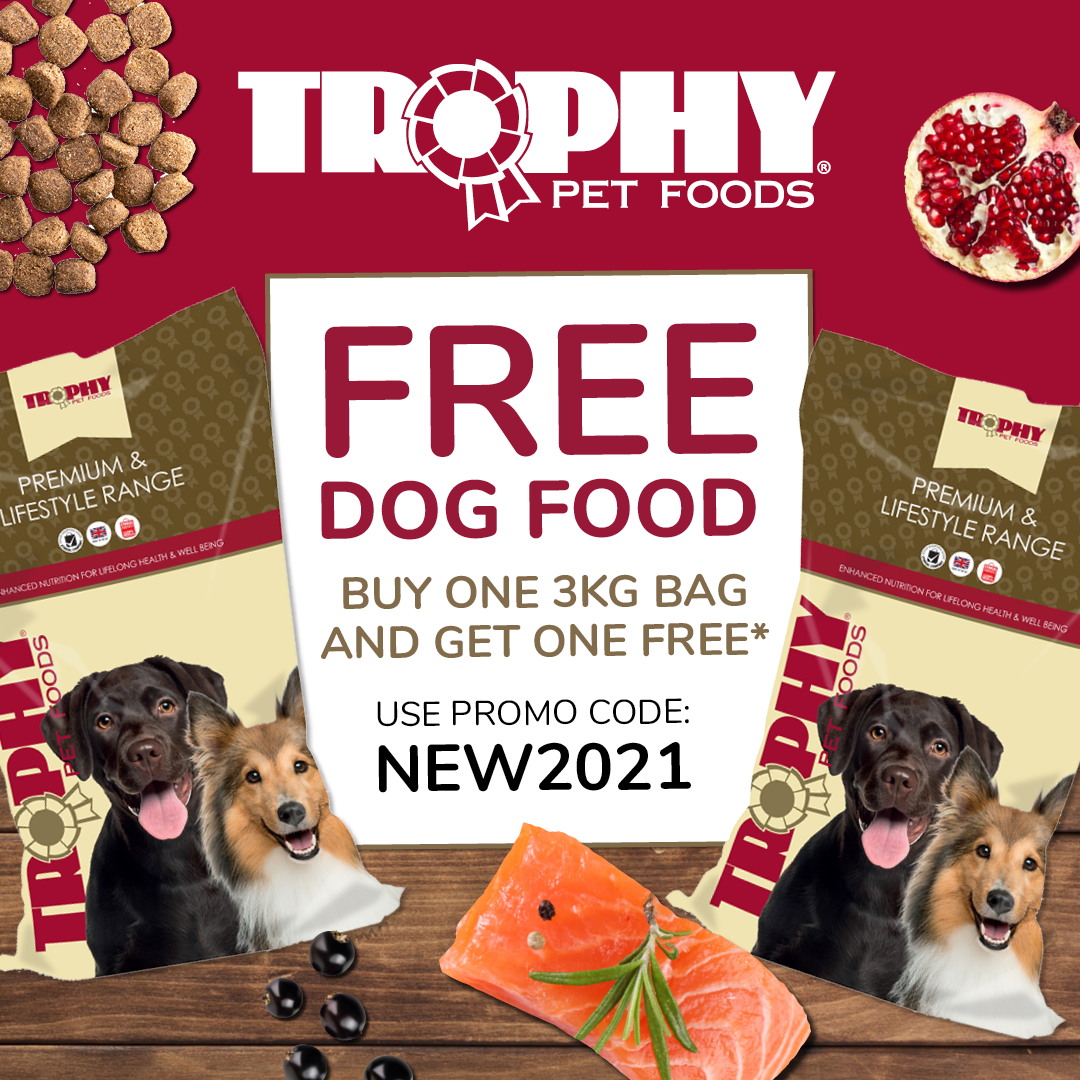 Still having doubts?
Let's have a chat about your pet needs
Blogs, news & events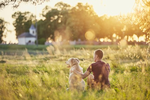 Caring for our dogs in the heat of the British summer
With our ever-changing, eclectic British weather we have to be on the ball when it comes to looking after our dogs. What is an ideal environment in the morning can have changed completely by the afternoon so we have to be mindful of making sure our pets are going to be comfortable – whatever the weather.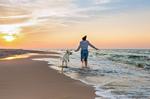 Dog-friendly holidays in the UK
This year's summer holiday period is quite unlike any other as many families choose to holiday right here in the UK as we continue to face travel limitations and concerns about venturing abroad. Also our dogs have become quite used to having us around 24/7 so you might feel less able to leave them behind this year. So if you are looking to enjoy a break in the UK with your dogs, what are your options and considerations?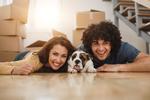 Choosing and caring for your first dog
In this instalment of our blog, we are going to be discussing the very exciting prospect of your first dog! The shelves are lined with lots of helpful books and there are some excellent websites providing advice on various aspects of dog ownership but...