Trophy Pet Foods Franchise
No boss, no commute and great flexibility. Our current Trophy franchisees did and they love it!
Trophy Pet Foods is your own local business. An excellent opportunity to work with the security of a strong brand, working alongside like-minded people. No previous experience is necessary, just a passion for pets, drive, and determination. You can soon become part of an organisation that cares about you, your customers, and your business.
Here at Trophy, we realise just how important and what a big decision it is to enter into a new venture and start a new business. But this is where franchising comes in. We have the correct skills, experience and know-how necessary to make your new Trophy Pet Food delivery business succeed. We are here to train, support and guide you along the way.
Our tried and tested formula combined with our superb launch programme and support package are designed to ensure you can grow and develop an exceptional local pet food business.
Flexible working hours, working from home to suit both you and your customers
Unique British brand, manufactured at our own plant
Get the scoop
Get the latest information on our new products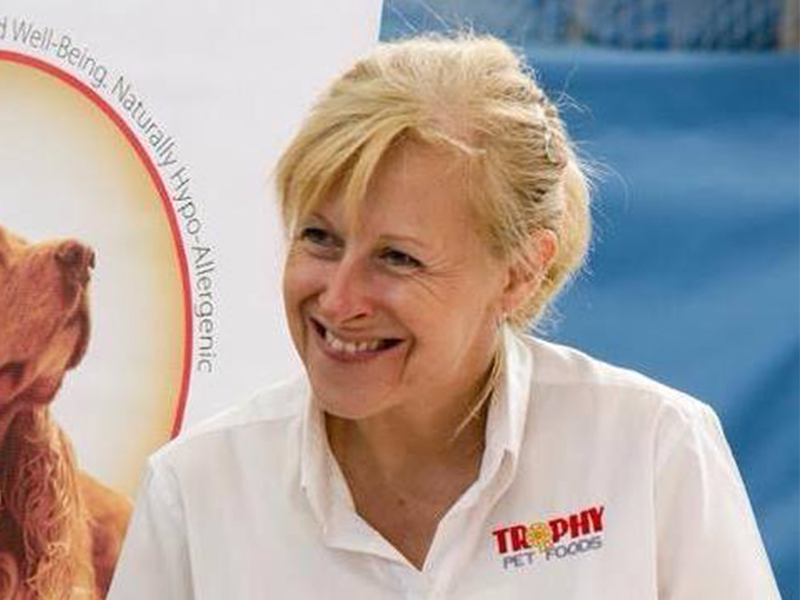 Although not having any direct sales experience, this didn't matter as just by enjoying meeting people and following the methods shown in the Trophy training, I gained just under 100 customers in my first year.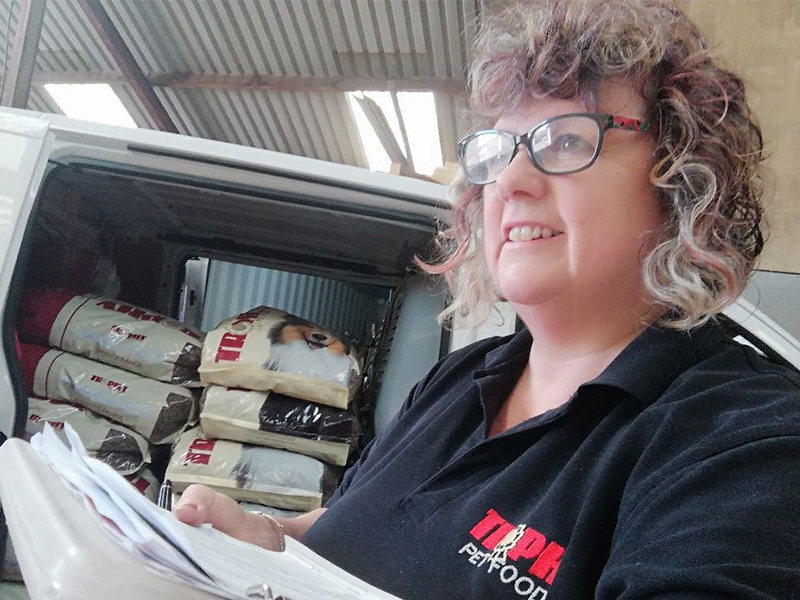 The ethical accreditation, lots of herbs and fruits in the composition, generous franchise area with huge growth potential and quality British food at very cost-effective prices, all make it easy to gain new customers.
What our package includes
Comprehensive training programme
Exclusive territory, large enough to grow and expand
Local advertising and marketing
Starter packs of stationary and tools
Initial starter stock pack
Nutritional qualification
All promotional literature
Effective launch programme and PR campaign
Comprehensive operating manuals
Dog weighing scales and trade scales
Full back-up and ongoing support
Comprehensive operating manuals
Video visual aids, social media commercials and tablet
Social media masterclass and managed social media support
Access to a Consultant Veterinarian
Corporate identity
A good image is vital to any new and existing business. Trophy's corporate image is second to none and each franchisee has their van fully signwritten, making sure that everyone knows what they have to offer. This professional image is carried through to the corporate clothing, digital marketing, social media, promotional literature and advertising, samples, food bags, starter packs and show equipment. Your vehicle will also be kitted out with our own display module to create a mobile pet shop. Trophy Pet Foods can offer all the essential elements to launch, develop, and grow a professional mobile pet food franchise.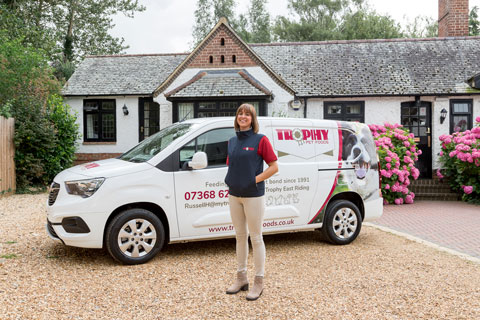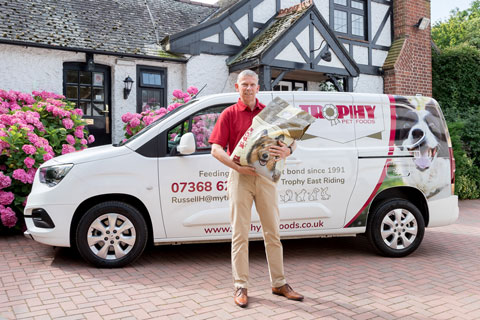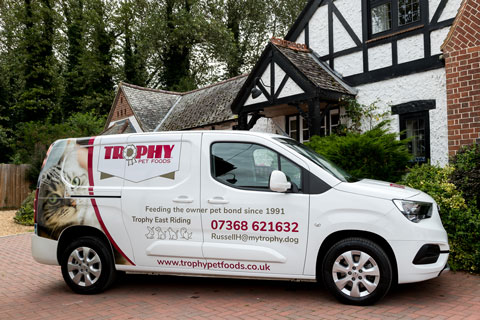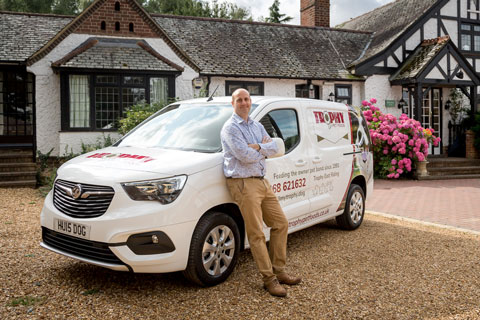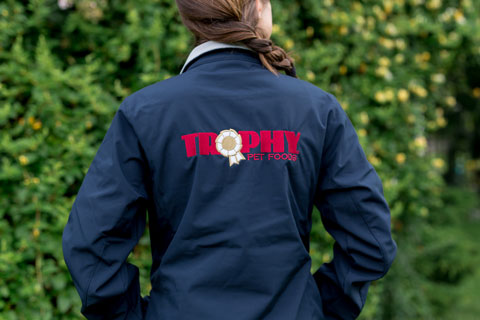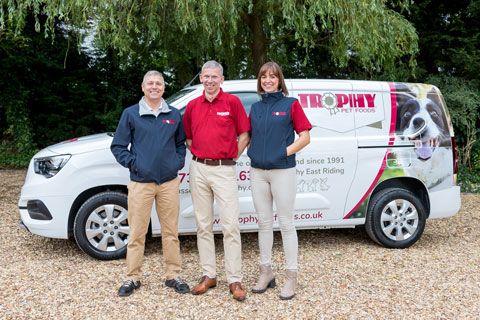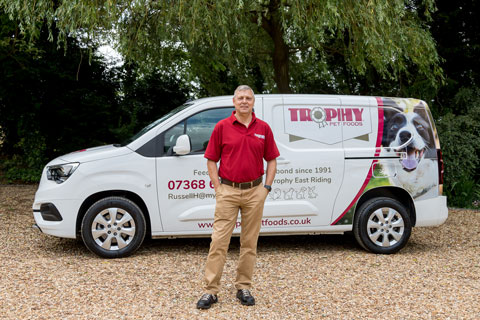 Personal trainer
Franchisees have full access to the Franchise Development Team, who carry out all support, development and growth plans. The FDT is responsible for the infield launch programme and will also guide the new franchisee through their first few years with Trophy.
Partnership
You are never alone when you form a partnership with Trophy Pet Foods, starting with a smooth and effective launch programme. They are also with you every step of the way, after all, your success is their success! One of the many benefits of running your own business in conjunction with Trophy is the level of support they can provide for you.
Ongoing support
Ongoing support is crucial and Trophy franchisees benefit from excellent communications, product development, free promotional literature, local and national digital marketing, help with customer-led development, regional meetings, a franchisee council, motivational support and, of course, your own personal trainer. In addition, seasonal newsletters for all your customers, brand building programmes, the Trophy website and social media; plus the famous Annual Trophy Pet Foods Conference and a professional customer referral scheme.
Building your brand
Over nearly three decades, the Trophy head office team has developed and perfected an excellent launch programme followed by some of the best support around. This product knowledge, nutritional advice and sales technique is exactly what is needed to develop a large customer base. Everything is tailored towards this goal, allowing you to become profitable as soon as possible.
Training and support
Training takes nine days in total. Four days in-house training kick-starts the business, followed by four days of in-field training with the Franchise Development Team (FDT). A one-day workshop, to review, discuss, consolidate and plan for the future, completes your training. In addition, further training will include: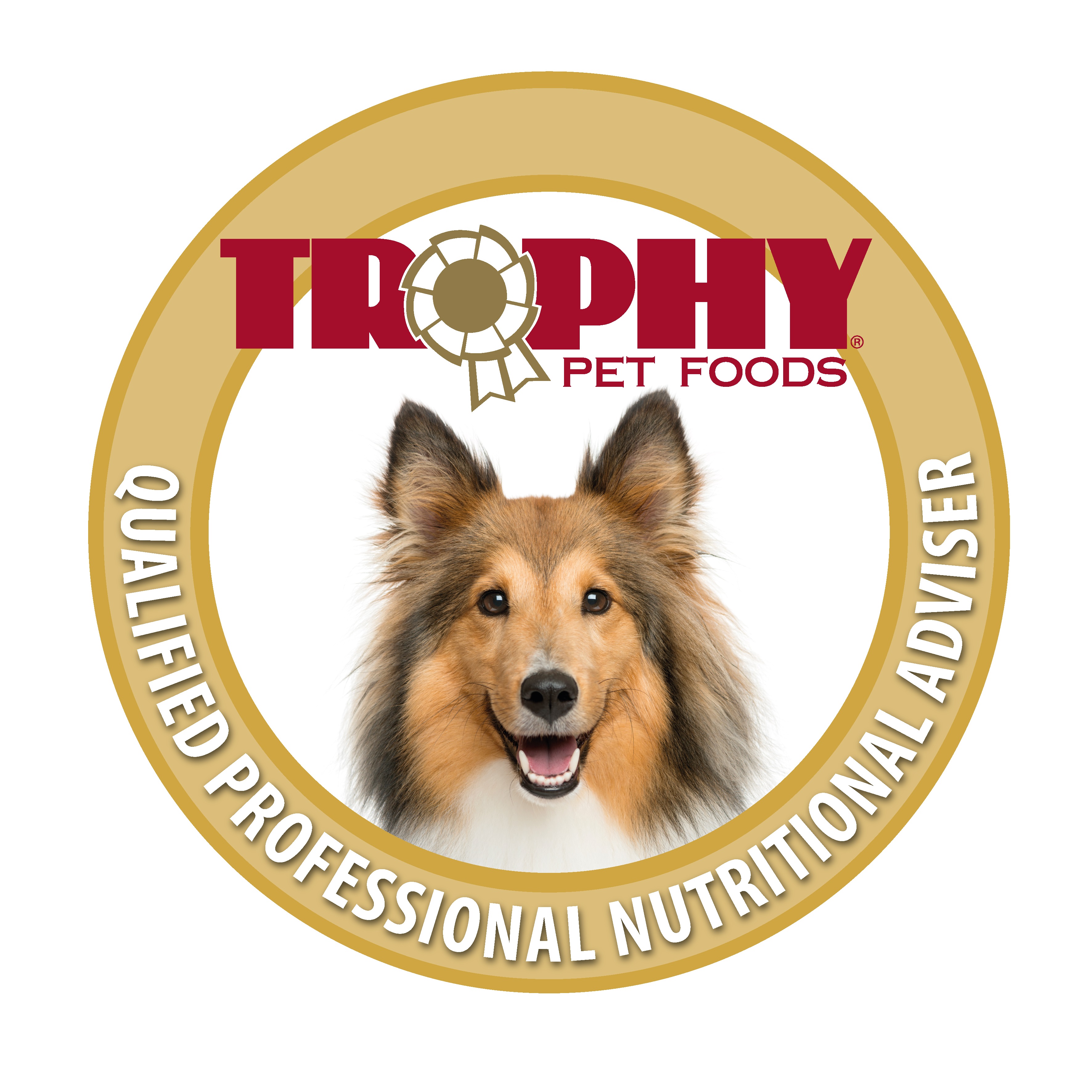 Nutritional qualification
An independent, professional qualification for all our new and existing Trophy franchisees - a certified CPD in pet nutrition and UK pet food legislation.
This qualification will allow you to provide a professional, dedicated service by adding value to the Trophy service and ensuring your customers receive the best nutritional advice. This nutritional qualification enhances the in-house training provided.
This distance learning course will ensure that our franchisees are fully trained in pet nutrition, providing you with a professional development qualification.
Your very own pet food delivery business
Join the growing network of Trophy Pet Foods franchisees. No boss, no commute, and great flexibility. Our current Trophy franchisees did and they love it!
Trophy Pet Foods is your own local business where you provide excellent customer service with a free direct-to-the-door delivery service with our natural British-made pet foods. An excellent opportunity to work with the security of a strong brand, working alongside like-minded people, with your own exclusive territory.
You will hit the ground running and grow your own unique, home-based, pet food business to a size determined by you..
We are now looking for new potential franchisees who are dedicated pet people to join our large network of qualified Trophy Nutritional Advisers. Fill in the form to receive our free information pack on our franchise opportunity. There is no obligation at this stage and your data is only used to send out our franchise information pack. This information pack will answer all your initial questions and allow you to see if this opportunity suits you and your family.
If you are interested in being your own boss, with a franchise that provides a comprehensive business package plus full training and support, please complete this form and our free information pack will follow.